Running an online eCommerce store isn't easy. You need a well-designed website, easy navigation, and display of the right products to customers at the right prices, of course. Each of us wants to retain customers and make their shopping experience a valuable one, anything that goes wrong equates to a customer loss.
In this article, we'll share ideas on reducing abandoned carts, as well as discuss some of the best WooCommerce abandoned cart plugins that can help streamline your business processes. So, if you're ready to learn more about how to reduce abandoned cart rates, let's get started.
Calculating the WooCommerce Abandoned Cart Rate
While abandoned cart rate is an important performance metric for any eCommerce store, it is especially important for WooCommerce stores. WooCommerce has a higher market share than any other eCommerce platform, so understanding and improving the abandoned cart rate is critical for WooCommerce businesses.
Measuring the abandoned cart rate is relatively simple: the number of carts that are not taken through the final checkout is divided by the total orders received. The percentage gives the Abandoned Cart Rate, which indicates the ratio of customers (or more precisely orders, since a customer might abandon multiple orders) that fail to finalize transactions. Obviously, a lower abandoned cart rate is better, as it indicates that more customers are completing their purchases.
Looking for a good cart rate? There is no definitive answer to this question, as it depends on the industry, product, and other factors. However, a good benchmark to aim for is an abandoned cart rate of less than 20%. Anything over that indicates that there is room for improvement.
Why Would Customer Abandon their Carts?
There are many reasons why customers might abandon their carts, but some of the most common include :
Whatever the reason, it's important to understand why customers are abandoning their carts so that you can take steps to prevent it with the help of WooCommerce plugins.
WooCommerce Abandoned Cart Plugins that do the Job
As any online retailer knows, abandoned shopping carts are a major business challenge. In fact, according to one estimate, the average rate of cart abandonment is as high as 75%. That means for every four customers who add items to their shopping cart, only one will actually go through with the purchase.
With the reasons why customers may abandon their shopping carts discussed above, we now know it's ultimately a loss of revenue to the store owner.
Fortunately, there are a number of plugins available that can help reduce the rate of cart abandonment. These plugins can provide features such as abandoned cart recovery emails, automatic coupon codes, one-click checkout buttons, and more. Some of the best Plugins are mentioned below, under the categories of premiums, freemiums, and free ones too.
Understanding the Abandoned Cart Plugins by WooCommerce
WooCommerce Recover Abandoned Cart

With WooCommerce Recover Abandoned Cart Plugin, people can create multiple follow-up emails and set times or schedules to send them to their targeted audience. This plugin also provides you the option of coupons and other incentives which in turn help with increasing the conversion rates. The recovery performances can be tracked using the extension's built-in analytic dashboard. Available features include –
WooCommerce Recover Abandoned Cart Plugin is a popular plugin that helps businesses recover lost sales and boost their bottom line. This plugin- WooCommerce Recover Abandoned Cart is available at CodeCanyon. It comes in with future updates, and 6 months of support from the author. This plugin is designed to send automated email reminders to customers who have abandoned their cart, giving them the opportunity to complete their purchases. The plugin also includes a powerful reporting system that helps businesses track their progress in recovering abandoned carts. Overall, WooCommerce Recover Abandoned Cart Plugin is an essential tool for any e-commerce business that wants to boost its sales and improve its bottom line.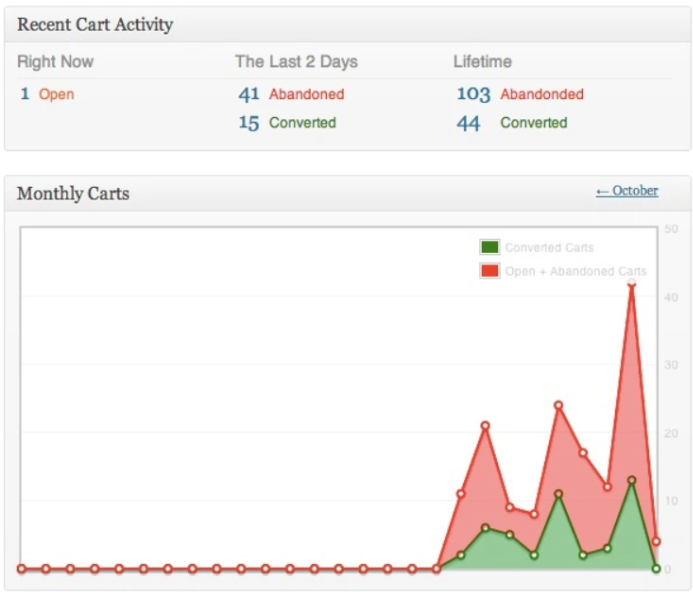 This extension provides real-time metrics on the open and abandoned shopping carts of your customers. WooCommerce Cart Reports help you keep account of the carts and efficiently manage them.
Cart Reports
available features include –
YITH WooCommerce Recover Abandoned Cart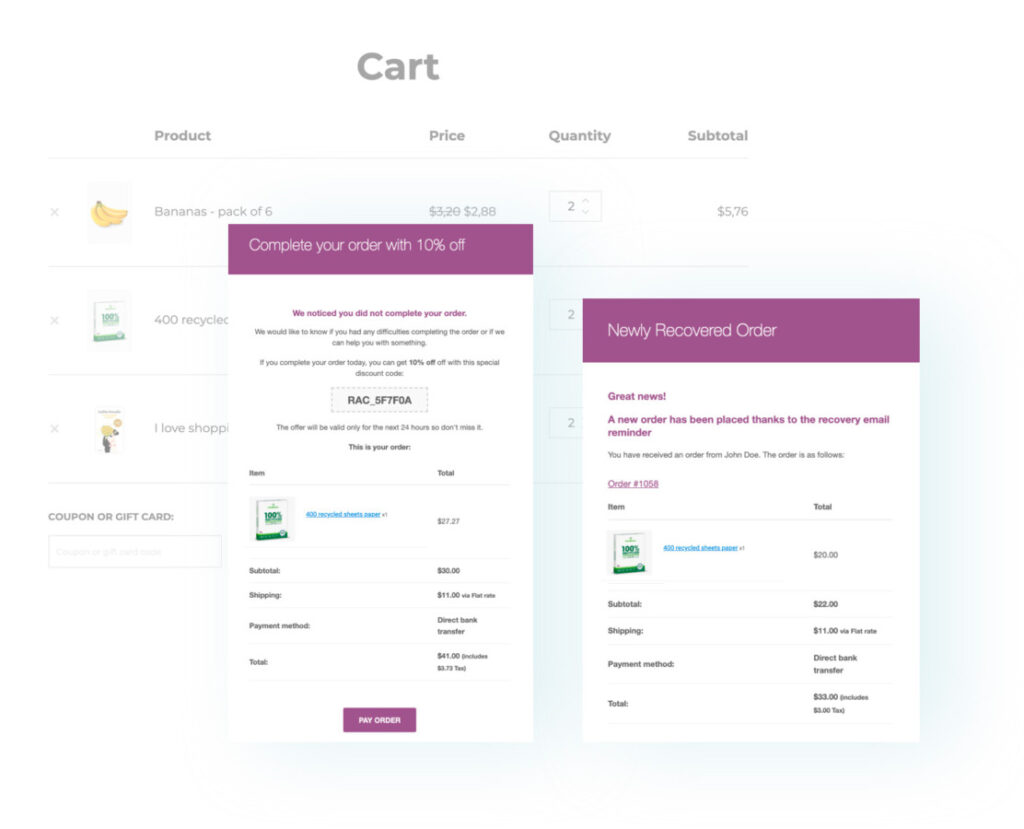 With YITH WooCommerce Recover Abandoned Cart plugin you can contact customers who have items in their cart, without completing the order and work on recovering them. Benefits of using the plugin –
Abandoned Cart Lite for WooCommerce

This plugin Abandoned Cart Lite for WooCommerce is bundled with all the essential features you need for abandoned cart recovery. The features include –
WooCommerce Cart Abandonment Recovery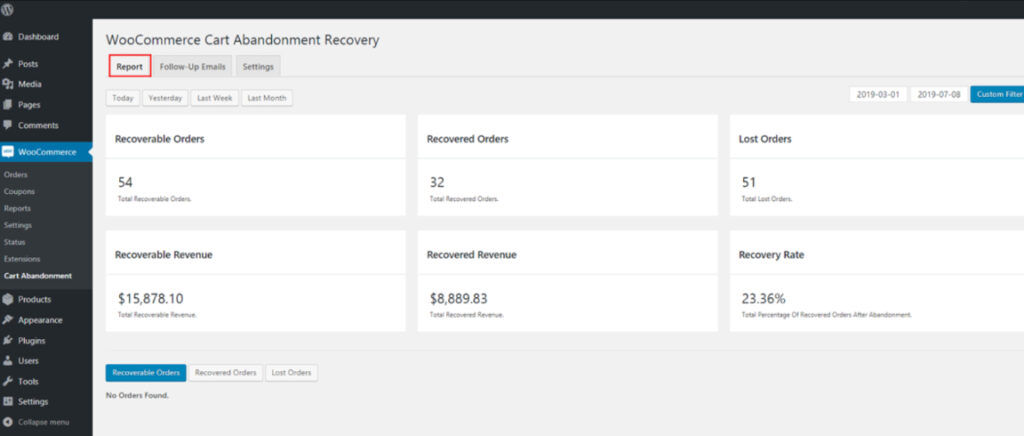 The WooCommerce Cart Abandonment Recovery plugin captures the data regarding the mail addresses of the users at checkout. If the order is not made within 15 minutes this plugin creates a series of automated follow-up emails to be sent to the customer. Luckily, these can be customized to represent your brand. Features available include –
Retainful - Free WooCommerce Abandoned Cart Recovery Plugin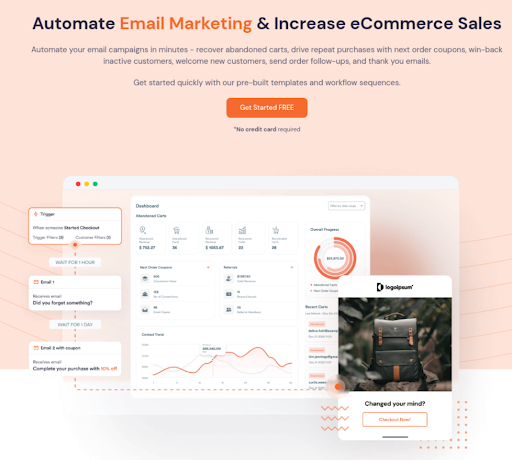 Retainful is the perfect plugin for recovering your abandoned carts and turning them into sales. You can create an instant campaign with just three automatic emails or add more if needed!
Retainful's drag-and-drop email editor makes it easy to customize your cart recovery emails. You can edit the subject lines, and add store logos and product images in a flash, all without any coding knowledge! Shortcodes are available so you don't have to go through all those tedious steps when creating personalized messages just for each customer who has placed an order with Retainful's system.
Retainful is the perfect solution for any business looking to encourage more customer purchases. With a few clicks, you can set up an automated campaign that will send out emails with coupon codes in them- providing great incentives and discounts along your purchase process! Benefits available include –
Product Filter Plugins by WooCommerce
WordPress is the most popular content management system in the world, powering over 30% of all websites. Like everything else, there are several WooCommerce product filter plugins that you can choose from to integrate into your store. Some are paid and some are free, and the choice of plugin depends on your particular requirements and budget. WooCommerce product filter plugins that you can use in your store to offer a great experience to your visitors. These plugins will help you save time and headaches while providing a great user experience for your customers. Here's a list –
Understanding the Product Filter Plugins
JetSmartFilters by Crocoblock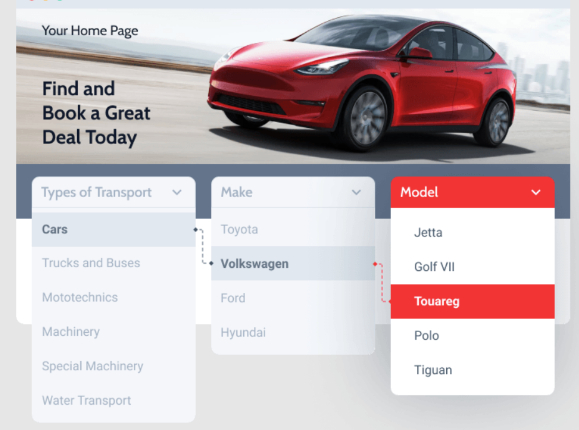 If you're looking for a powerful yet easy-to-use pagination and filtering plugin for your eCommerce site, JetSmartFilters is a great option to consider. With support for a variety of widgets and filter bar designs, it's easy to find a setup that fits your needs. And because it's based on AJAX, your users won't have to reload the page every time they change a filter, making for a much smoother overall experience. Plus, with the ability to apply multiple filter types and hide unwanted results, visitors to your site can quickly find the products they're looking for – without having to wade through tons of irrelevant results.
JetSmartFilters
is also compatible with the JetWooBuilder plugin, making it even easier to create beautiful eCommerce pages. So if you're looking for a pagination and filtering solution that can take your online store to the next level, be sure to check out JetSmartFilters. Features include –
YITH WooCommerce Product Filter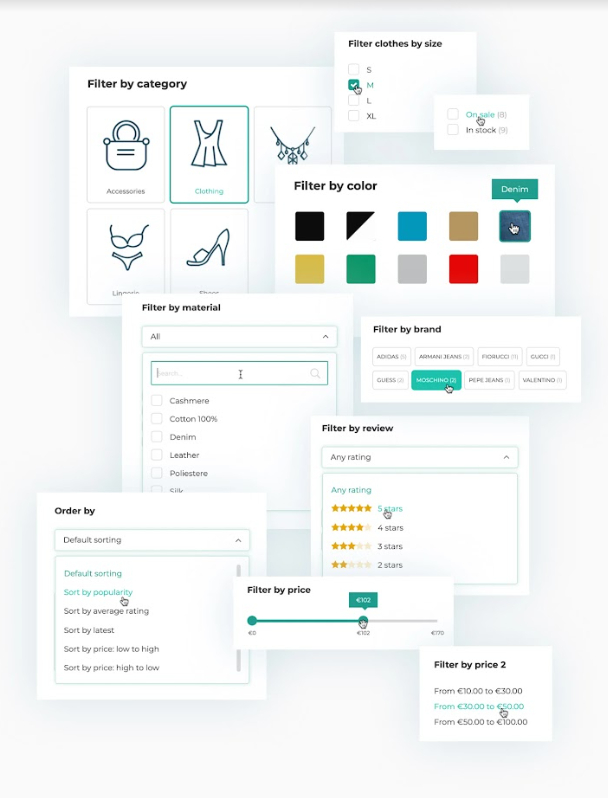 The Yith WooCommerce product filter is a popular plugin that comes with several features. This plugin allows visitors to filter store inventory by using price, color, category, tags, etc. This plugin has 1,00,000+ active installations. The Yith WooCommerce product filter is a popular plugin among online shoppers because it allows them to find what they are looking for quickly and easily. The plugin is also beneficial for store owners because it helps to increase sales by making it easy for shoppers to find what they want. Overall, the Yith WooCommerce product filter is a great plugin for both shoppers and store owners. Features include –
Product Filters for WooCommerce- WOOF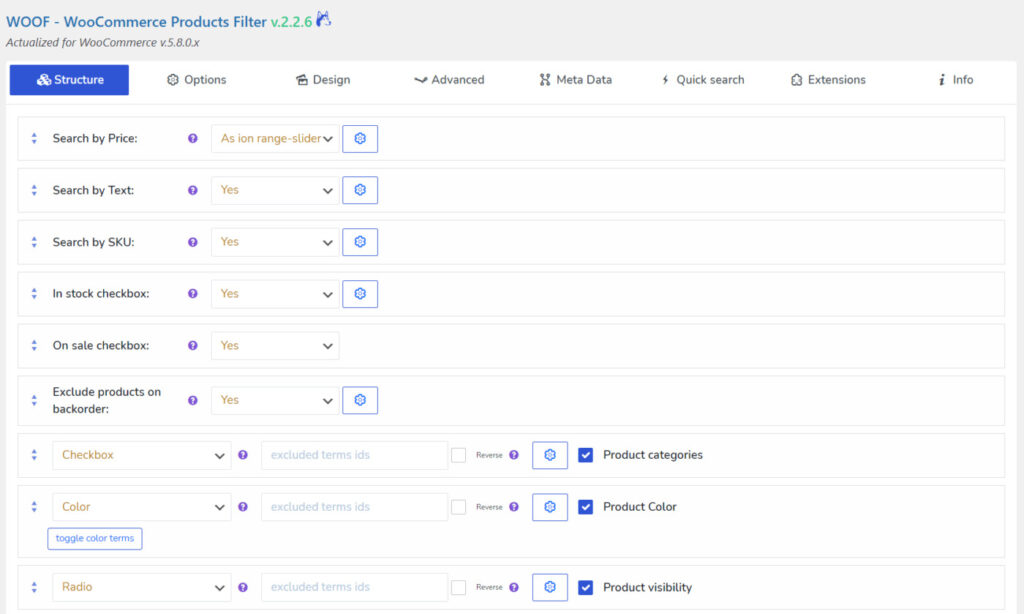 WOOF is one of the highest-rated free WooCommerce product filter plugins available. It allows visitors to search for products by category, attribute, tag, and price. With over 70,000 active installations, WOOF is a popular choice for those looking for a reliable product filter plugin. WOOF is easy to use and provides a great deal of flexibility when it comes to filtering products. Whether you're looking for a specific product or trying to find the best deal on a particular item, WOOF is an excellent plugin to help you find what you're looking for. If you're running a WooCommerce-powered store, WOOF is definitely worth considering as a way to improve your product search functionality. Features include –
Advanced AJAX Product Filters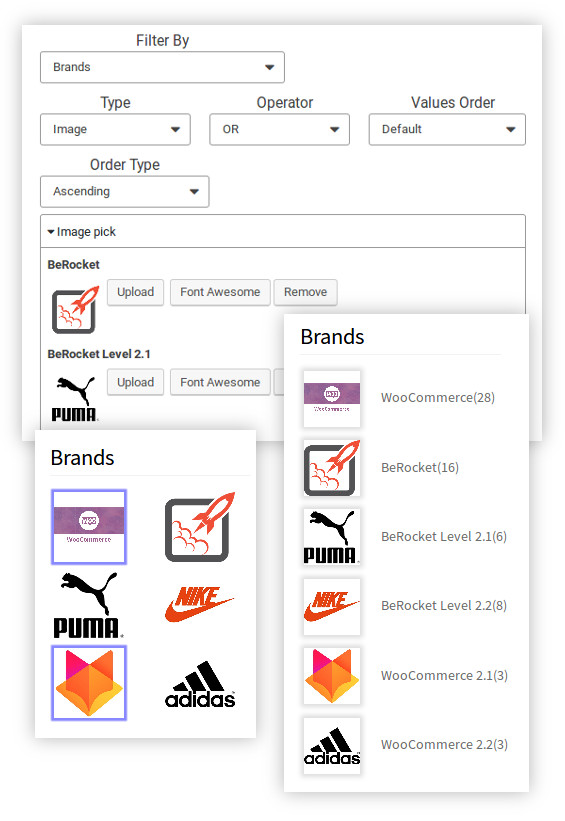 Advanced AJAX product filters is a free plugin that allows you to add unlimited filters to your widget. It is easy to use with a lot of good features. Customers can easily filter the products by attributes, custom taxonomies, price, tags, and categories. This plugin has 10,000+ active installations. Overall, this is a great plugin that can be very helpful in allowing your visitors to find the products they are looking for on your website. Features include –
Themify – WooCommerce Product Filter

If you're looking for a flexible tool to help set up product filter options within your WooCommerce store, Themify is a great option. This free WordPress plugin allows customers to easily filter through items by price range, tags, attributes, categories, and many more. This is an awesome tool that helps shoppers find any products fast and easily! Plus, with over 10,000 active installations, it's clear that this plugin is popular among WooCommerce users. So if you're looking for an easy way to improve the shopping experience for your customers, be sure to give Themify a try! Features include –
If you're looking for ways to improve your online store and drive more sales, be sure to check out the best WooCommerce extensions and plugins. These tools will help take your business to the next level by providing extra features and functionality that can really make a difference in terms of how your store performs. And if you need any help setting any of this up, our team is here to assist. Thanks for reading!
Latest posts by Vaibhav@icubes.org
(see all)