I've stumbled on a 3+ year, important yet unresolved major issue coming out of Facebook Business Manager and the special Aggregated Event Measurement section.  It's something that will make owners think very carefully before picking their Facebook Business Ads consultant or specialist.
Facebook Manager Domain Can't Be removed – Domain Already Verified by Another
Normally when we working on a website using 3rd party services like Google Ads, Hotjar, we need to basically verify that you are the true owner of your business. This helps prevent scams, misleading advertisements, or malicious links from being promoted on Facebook. It also helps maintain the integrity of the platform and protects users from potentially harmful or deceptive content.
However, this is a common problem when swapping from 1 Facebook Ad Team to Another, or reactivating an old FB Ads campaign: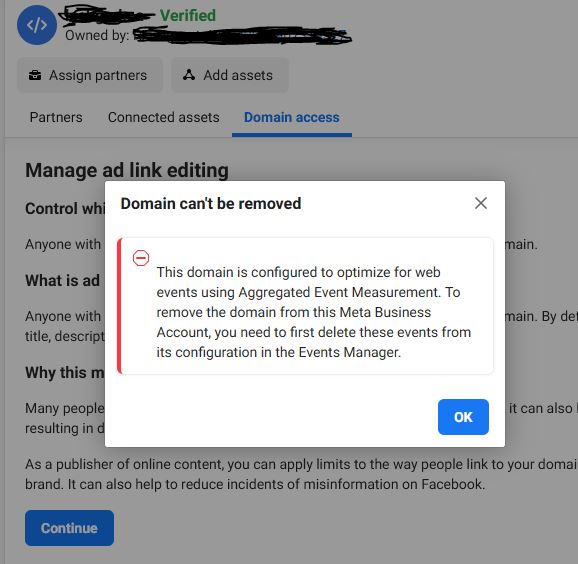 You may get a different error code, but this has been ours we've been struggling with.  Error code says "This domain is configured to optimize for web events using Aggregated Event Measurement. To remove the domain from this Meta Business Account, you need to first delete these events from its configuration in the Events Manager."
In simple terms,
IF YOU HAVE THIS ERROR, YOU ARE BETTER OFF STICKING TO YOUR OLD FACEBOOK BUSINESS MANAGER ACCOUNT
What is
Aggregated Event Measurement?
Facebook Aggregated Event Measurement helps businesses understand the effectiveness of their ads by providing anonymous data about actions taken on their website after clicking on an ad. It respects privacy rules by grouping data instead of tracking individual actions.
This is Facebook's latest try at bypassing Apples "ASK APP NOT TO TRACK" efforts in privacy.
Now Here's Where Facebook Devs Really Messed Up
Just a few months ago, and commonly shown on Google, blogs, and Youtube, we had this tab to access AEM (Aggregated Event Measurement):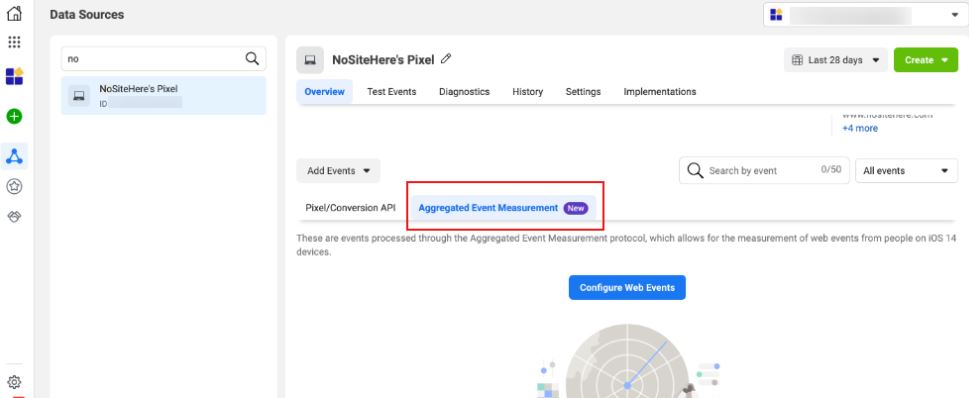 As of 2023 05 30, Facebook has removed that tab entirely, leaving folks like us out to dry.
Look below, there is NO TAB for AEM, where is the AEM tab?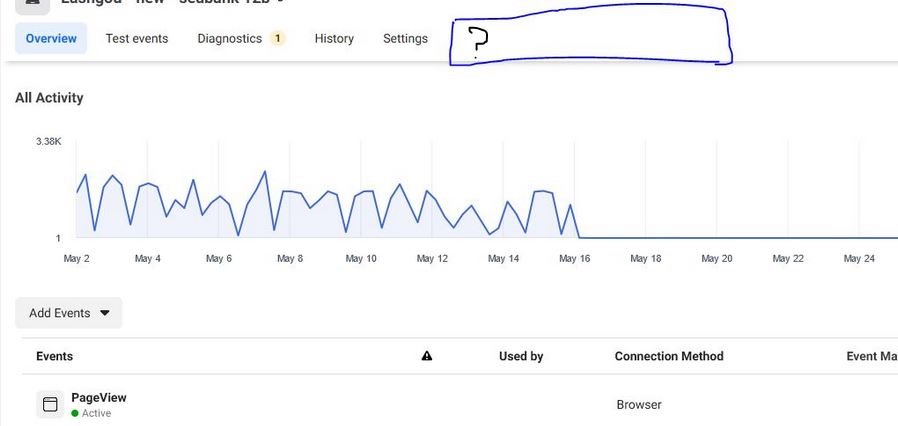 Where is
Aggregated Event Measurement tab in 2023?
I can't find it anywhere!  They vaguely talk about it in their documents, but there is no actual support or news on this.
Horray Facebook Business Team, another one for the tech support ticket log I suppose.
But What Is The Solution?
First, if you've got all conversion events working for your FB ad account, hang on to it and appreciate it.  It's spaghetti code, and it works.
Know that Domain Verification was a temporary thing that wasn't required prior to Apple's privacy clamp-down.  And Domain Verification isn't even needed anymore.  It will just leave a bit of an OCD stain on your Facebook Ads situation knowing that you're old FBM account has your domain tied to it.
As Mark Fagan, owner of fxcommerce.io says:
You will never need the domain again – it was irrelevant in the first place and was forced on FB as a result of post IOS meltdown, although that's not an issue any longer I'd suspect it will eventually be removed from all accounts, FB are moving toward modelled in a big way these days.

They have been for quite some time,now anything outside of an attribution window will be modelled regardless of IOS – no more waiting for Apple throttled conversions.

If you have the new commerce manager take a look at conversions that took place outside of your conversion window, you will see what I mean.

They have the data now and are working in a new lattice ai module to model them back into accounts in a timely manner.
Second, if you're new to all this, do NOT CHEAP OUT on an experienced FB ads team that has shown success in your specific tech stack!  Every platform is different (Shopify, WooCommerce, etc).  And the Facebook / Google recommended plugins and apps are often bugged and not the best.
Lastly, if you're trying to swap FBM accounts and just want to re-verify your domain no matter what, the recommendation for now is to hold off.  Try to have full admin access to your existing, because for now, the Facebook Developers are not giving a clear indication of fixing this issue.  Many owners have their domains verified in an old FBM account, not able to transfer the ownership to their new account.  This is a unique Facebook concept, because normally Domain Verification is not hard-wired on the software platform side like this.
Personally, we are keeping our old working Pixel and FBM.
Good luck and I'll update this blog post once Facebook updates anything.
Don't Hold Your Breath On Facebook Fixing Things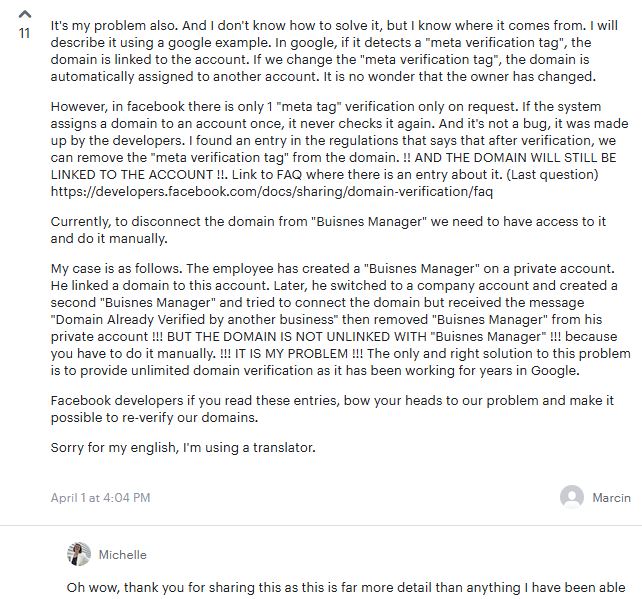 Damn, sorry Marcin.
I HAVE TO HAVE AN ANSWER
The best I can is pull in this specialist from the PPC sub of Reddit, who I dugged into it and got a nice answer from, thank you sir: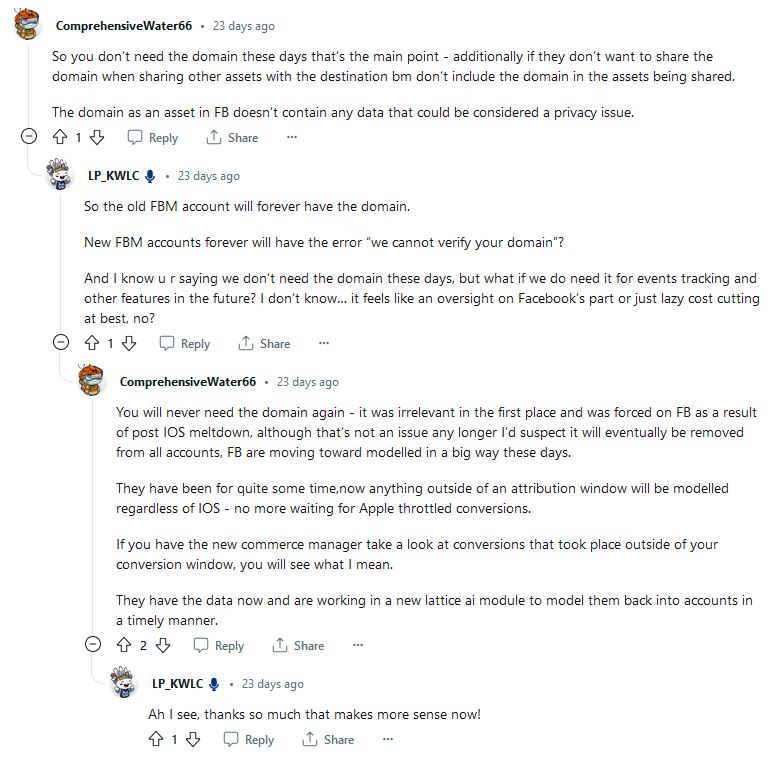 Latest posts by Peter Peng
(see all)