Abandon cart solutions scale very well.  They automatically increase your eCommerce store revenue by a % for a small fixed cost.  The more revenue your business have, the more profit.
It's no wonder that the main upgrade feature of Shopify basic to pro is just the Abandon Cart email feature costs $50 USD/ month.  For a medium to high volume store, it's worth every penny.
However, there are misconceptions that Abandon Cart is a "set it and forget it" feature.  I've been monitoring WooCommerce Abandon Cart data for years and found 3 easy methods for scalable increased profits.
Note that while this case study was conducted in WooCommerce, the same ideas are compatible for Shopify stores.
Here is a semi-optimized result I've configured over just 12 days ($2178.73 recovered):

Here is the result of an unoptimized abandon cart system over 1 year:

The real difference between the two is the % rate of email capture and then the % rate of recovery.  Here are the stats:
No Optimization
Semi-Optimized
Emails Captured At Checkout
14.9%
39.7%
Recovered Carts
0.3%
4.6%
(the higher the better, 4.6% added revenue is just the beginning!)
Note that all Abandon Cart features are premium and charges $ per month.  If you are paying for something like this, you better get a return on investment.
I except even higher recovery rates soon and we have not even used pop-up email captures yet!
If I can increase your revenue by 5-7% for a fixed fee, what does the math work out to for your business?
3 Easy Methods for Abandon Cart Optimization
Make the WooCommerce checkout similar to Shopify's "email first" checkout flow
On a second email, use limited time coupons and invoke their sense of urgency
Pay for a premium Abandon Cart plugin suite with a pop-up prior to the cart to capture even more emails
For most stores, I would recommend method #1 and #2.
These methods are cheap and easy to implement in WooCommerce without damaging UX. Some business owners simply do not want pop-ups.
Lets get to the details of how to execute on each method.
1st Easy Method: Get Their Email ASAP
Shopify asks for the user's email FIRST, while WooCommerce asks for the email on the 10th box.
If you already use Shopify, you can ignore this step, lucky you.
When in WooCommerce, we always want the customer's email ASAP.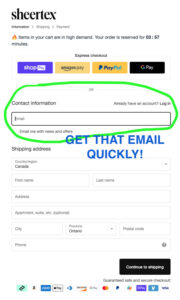 Luckily, there is a free plugin with 400k installs that moves the email input first, you're welcome! (no affiliation or sponsor or ad here, just a plugin that works)
This has been verified and tested for a few of my own websites, here's how the improved WooCommerce checkout looks: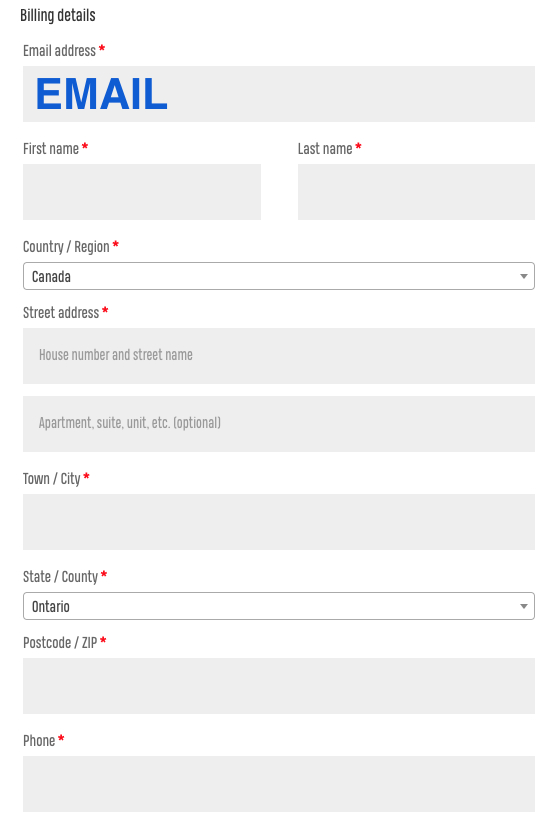 2nd Method: Use a Limited Time Coupon for a Second Email
If the customer does not purchase on your first abandon cart email reminder, it's time to use a coupon! Whether your business can handle the margins or not, keep in mind that a good system will only email customers who refuse to purchase without a coupon.  You have nothing to lose at that point.
(A exception may be subscription based business models where a short-duration, "coupon-hunting" customer might cause more harm than good)
Here is a recent email flow chain for a second and third email for those hard-to-reach customers:

The effectiveness of coupon emails are self-evident here, customers open these emails at very high rates:

In summary, don't sleep on urgency coupons!
This applies to both Shopify and WooCommerce stores. The vanilla coupon code feature in WooCommerce and Shopify work just fine when used correctly.  No plugin / app bloat necessary.
3rd Method: A Premium Abandon Cart Flow System
Googling "top abandon cart plugins" will always yield over-SEO'ed generic lists of many plugin options, but the in-depth details are missing.  When it comes increasing % on your revenue, a good Abandon Cart system deserves a deep dive.
For me, the ideal abandon cart plugin has these features when paid for:
popups to collect emails upfront if you want to be more aggressive in email capture
auto-generated limited time coupon codes in vanilla WooCommerce
email flow editor for you 2nd and 3rd abandon cart emails
an equivalent WooCommerce plugin for easy API connection / licensing
This is why we choose the Retainful platform.  There is a Free plan but we use the Starter Plan at $19/mo.  In addition to the key features above, they also have referral and win back systems: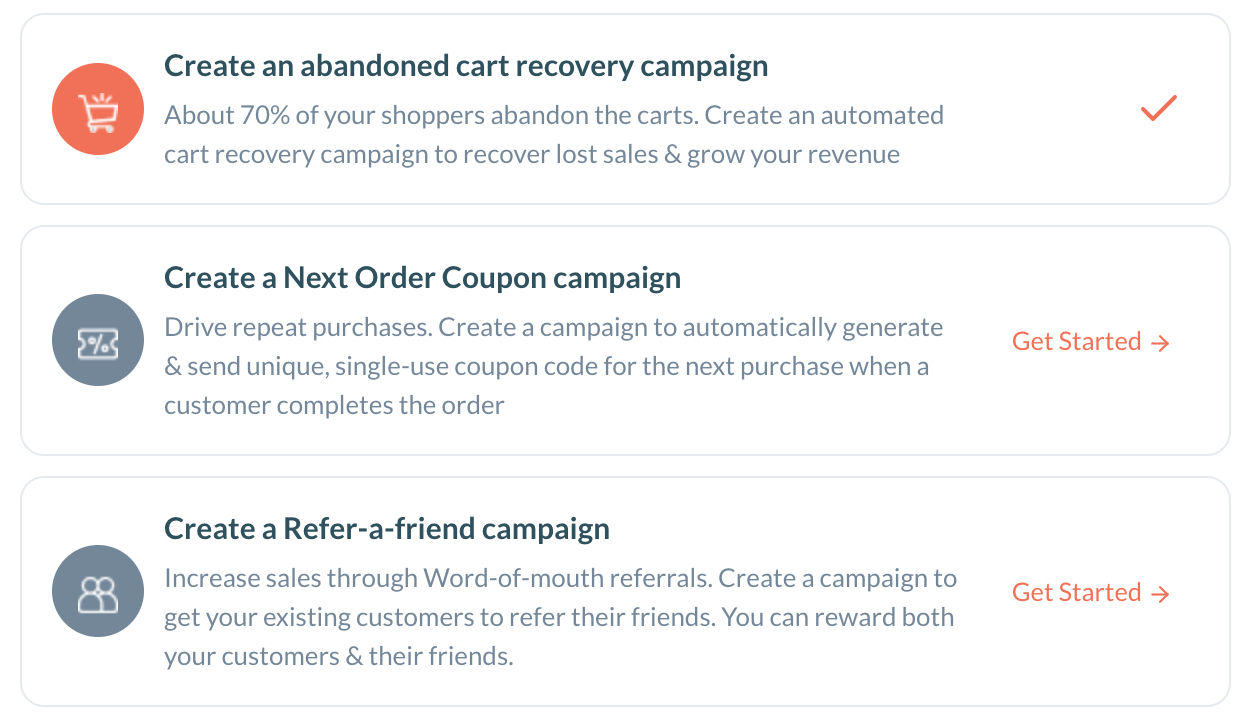 App stability and easy setup is also important to us.  Retainful uses the vanilla WooCommerce API to make it all as easy as possible: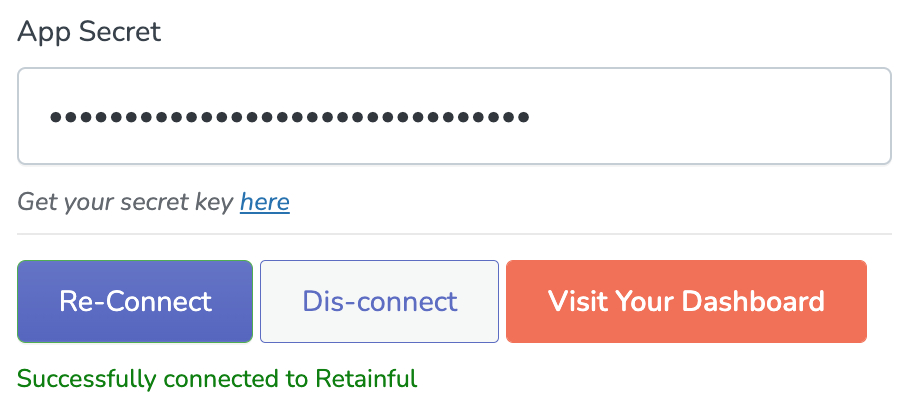 Please note we are in not affiliated or sponsored by Retainful.
We've spent years testing and validating eCommerce plugins and apps against their claims.  Some are hit and miss, but when we have a big hit we love to share with anyone interested!
How Does Abandon Cart Recovery Work & Why Do I need it?
When a customer adds your product to their shopping cart, it triggers your Shopify / WooCommerce to register a "cart open".  However, customers are free to simply abandon their purchase for any reason.
This is a serious loss of potential "almost there!" revenue.
A large meta study by Baymard Institue found that 69.99% of your revenue is lost due to these "almost there!" customers.  The study used large data sets from folks like IBM and Adobe.
Why do customers abandon their carts?
The data might surprise you, Shopify has identified top 4 reasons customers are abandoning:
Being forced to create an account.
Unexpected delivery / shipping costs
Struggling with complicated checkout processes.
Concerns over security.
What If I don't want to let customer us Guest Accounts?
Guest Accounts for Shopify / WooCommerce are great, there is virtually no downside because you still capture their email & shipping info this way.
Some uninformed eCommerce owners turn off the Guest Accounts feature hoping to get more contact points or other information from the customer.  However, forcing all customers to create an account (signup disclaimers, more reading, and more buttons to click… ain't no one got time for that!) when you would ALREADY have their contact information via the Guest Order is completely redundant.
In other words, the guest vs account checkouts look the same, except account creation is more steps.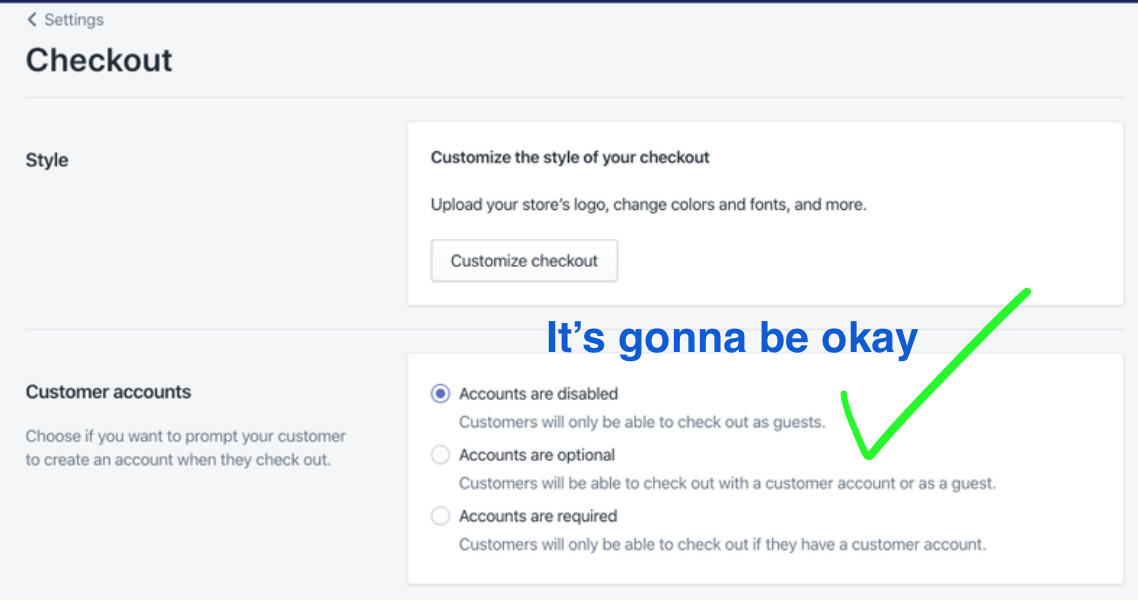 In summary, go ahead and enable Guest Checkouts in Shopify / WooCommerce vanilla!
How to address shipping costs?
Consider using WooCommerce's discount codes which trigger at certain cart sizes.  It's likely that shipping costs scale better with big orders.  Do whatever it takes to incentive these kind of large cart purchases. Also consider artificially pricing some shipping costs lower.
Ask yourself, does your business want to make money & delight customers… or does your business want to represent shipping costs 100% accurately for even more manual labour costs?
If your business ships bulk, heavy or over-sized goods, be assured that generally, customers understand shipping is expensive.  All the more reason to throw in some urgency via expiring coupon codes to get them over the emotional toll of shipping costs.
Lastly, sometimes it's the communication that is the issue.  Be sure to have a clear shipping table and simple prices.  See below from Restoration Hardware:

What's the best waiting period for abandon carts?
We find 1-2 hours for the first email works best.
1 day for the 2nd email for a coupon if the first email didn't recover a sale.
2 days for the 3rd email to urgent warn the customer the coupon expires seals the deal.

In Conclusion
I love measurable ideas and systems that scale up profits.  This is not our first rodeo with Abandon Carts, see this primer for Abandon Cart plugins and strategies specifically for WooCommerce.
Whether your are with WooCommerce or not, you can find your own methods that win back customers through emails and incentives.  Please feel free to contact me at Public @ Nordic99.com if you have any questions!
Credits:
Graph by René Bohnsack
Latest posts by Peter Peng
(see all)