Blogging for eCommerce is certainly alive and well in this mobile-driven era.  We measure this in terms of hard sales and Google Ad revenue.  Those that write blogs as freelancers, rarely get enough time and budget to do it well.  Thus, here is a
Masterclass in Blogging for eCommerce
This guide is meant for our internal team of bloggers or copywriters, but we certainly welcome anyone to read on.  There will be specific requirements and standards higher than what you may be used to.
How many times did you glance at your phone today?
We are in the mobile age, clients and our socials have tipped from 60-70% mobile, to 80%+ mobile traffic.  Everyone is death scrolling between their 3-4 mobile apps as a daily habit.  Keep this in mind as you are formatting your blogs; make it short & mobile friendly.
Mobile dominance means getting the habit of proofreading & pictures in mobile format.  Drag your browser narrow to see.  Use pictures that are legible in mobile.
eCommerce Content Live on Social Media, Use It!
Some eCommerce clients only have time to have their best content and ideas on social media.  Look for videos where clients teach "how to", "top lists", or anything else that has value for people.
In the AI age, Google is about to be flooded with basic, repetitive and boring content.  You can shine as Google's ranking algorithm will eventually figure it out and punish those who AI-spam.  It's easy as goal seeking based on user rentention.
This doesn't mean you shouldn't use AI (ChatGPT can make some decent filler content just to hit a word-limit) but do NOT USE AI FOR THE FINAL DRAFT.
Here's a step by step for my team to follow:
Step 1 – Listen & Learn
Watch the content.
For Youtube, you can see where viewers replayed the most by dragging the replay knob.
For Instagram, you can isolate reels and posts with a high comment/like count.  Watch this example from LASHGOD.
Try to budget at least 10-20 minutes to just digest the content.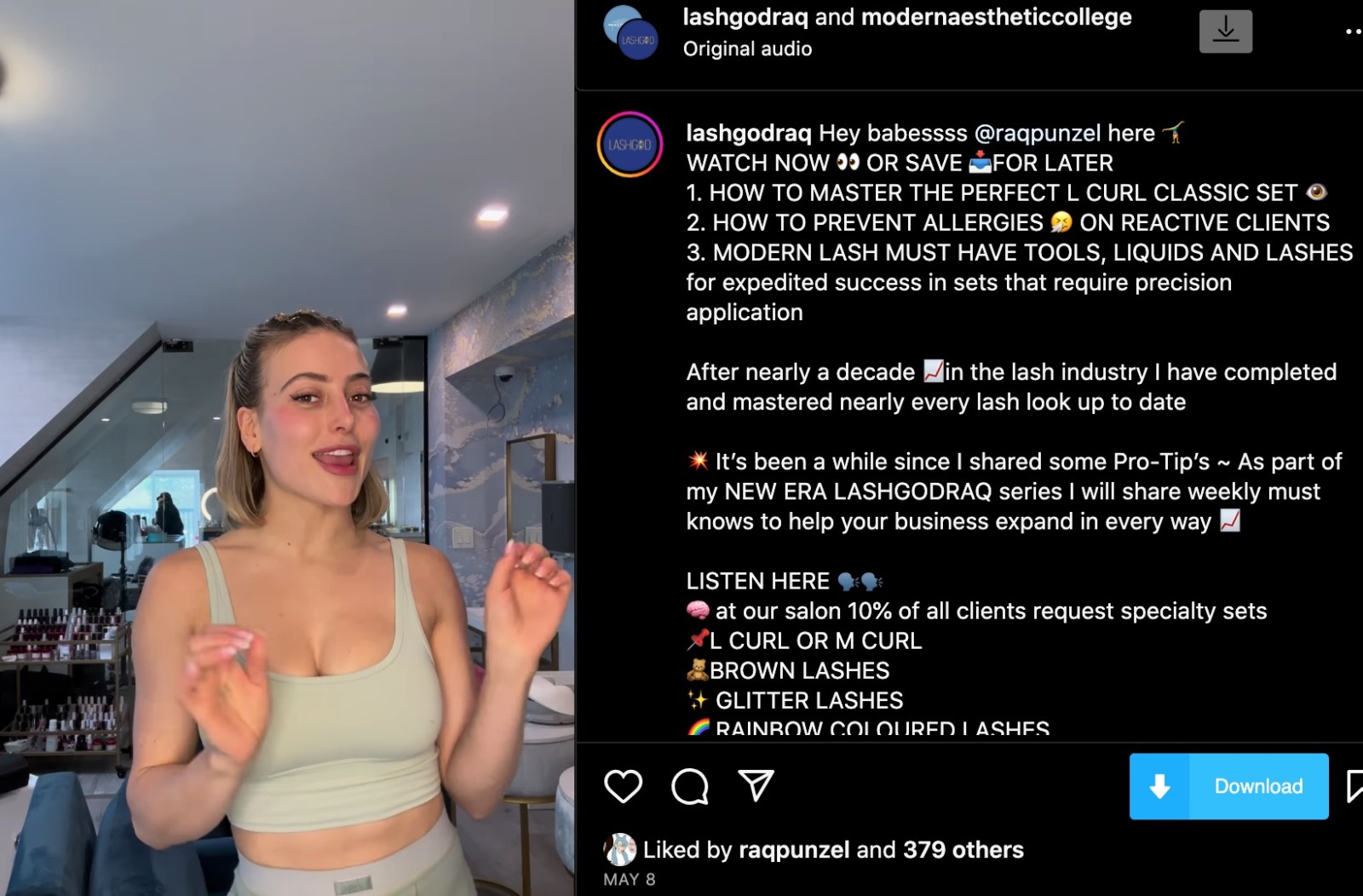 Credit for above reel: LASHGOD.
Step 2 – "Hook" title in a SEO friendly manner
Youtube and TikTok are common places with "hooks" like "I went from $500 to 1 BILLION dollars – here's how I did it".
Googlers and SEO blogs can't really match that energy, you have to title your post based on what a normal human is searching for on Google.
Here are some examples
GOOD SEO TITLE
BAD SEO TITLE
What kind of glue to use for lash extensions?
These eye lash extension glues are amazing (not written like how a human would search)
Best eye lash extensions in Toronto
Best eye lash extensions (too general)
How to master L curl extensions
HOW TO MASTER THE PERFECT L CURL CLASSIC SET (great for social media, not so great for google in terms of how humans would search)
LASHGOD review *insert product name*

-or-

Review of Lashgod's Goldbond Adhesive Glue

Our amazing Goldbond Adhesive Glue (obviously not an unbiased review and not something someone is searching for)
These might not be the best titles.  A senior copywriter can certainly come up with more emotionally driven keywords for you.
Step 3 – Screenshot / Download
Use a screen capture software to take screenshots
Use copyright free images if needed elsewhere
Hotlink product images if needed
Using a Mac? U can make the screenshots into JPGs instead of PNGs!  (never use PNGs!)
Whatever is needed to get 1 feature image (consistent ratio) and 2-3 good mid-way images.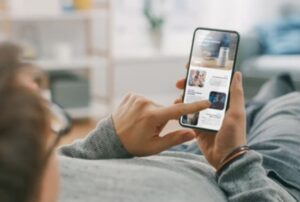 It's essential to have good mid-way images to keep readers scrolling!
Step 4 – Drive Sales to Related Products
This should come as a no-brainer.  If we're spending extra effort on high quality blog posts, make sure you know about the business's products and recommend some at the bottom.
See Vogue for a good example of SEO friendly product recommendations.
See My Top Organic post that has 36,000+ pinterest shares
Step 5 – Proofread / Polish
This is a key step most bloggers forget or don't get budget to do.
The fact is a good blog post cannot be done in one sitting.
It's hard to proofread your own work because your brain already is bored of what you just wrote, it starts skimming over.
Proofread after walking away.
Proofread as if finding a mistake will find you a lottery ticket.
Or have someone proofread for you.  Go ahead and try:
https://hemingwayapp.com/
Grammerly
Asking for an editor
or ChatGPT!
Polish is a better mindset.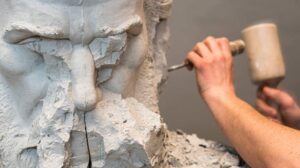 Pretend you're a sculpture and your first blog post is always a rough draft.  Keep bettering it over the 2nd or 3rd session.
Additional polish for proper SEO:
Headers formatted as H1, H2, or H3
SEO Snippet (use plugin)
SEO Title
Alt Tags in pictures & captions
Pass the Rankmath test if you still have time
*Bonus* add in user polls via plugins if you can
This masterclass you're reading now passes the Rankmath SEO test: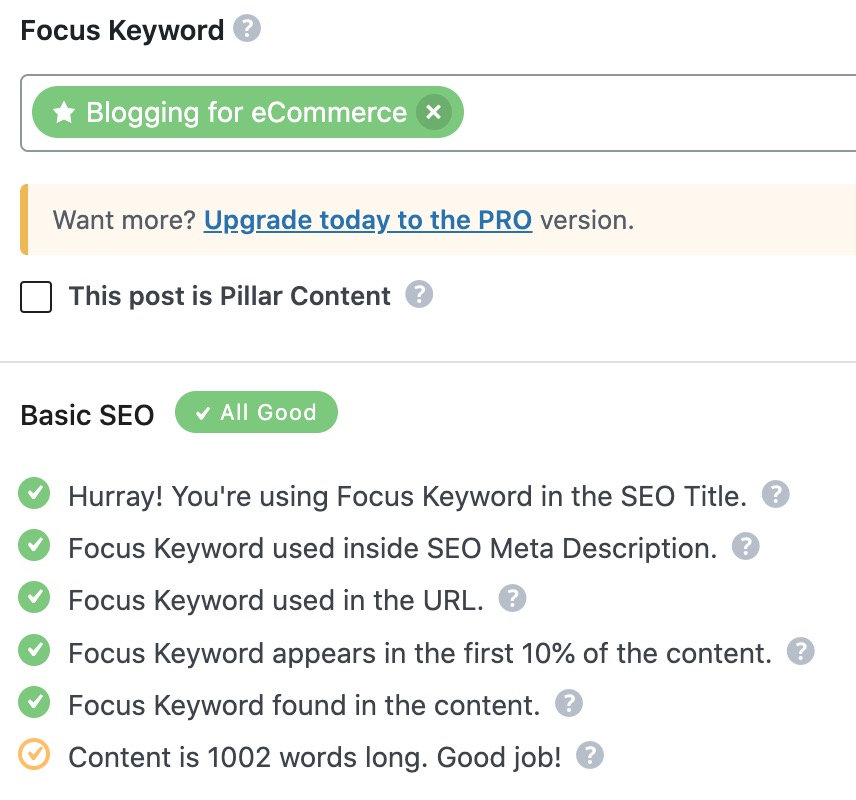 LAST Step – Submit
Make sure to follow whatever additional templates and worksheets we have for the particular client.
That's it!
Not Us Casually Outranking the Toronto Sun
Knowing that TEMU is new, I wrote this piece for Kerina Mango in about 30mins and generated a lot of organic traffic.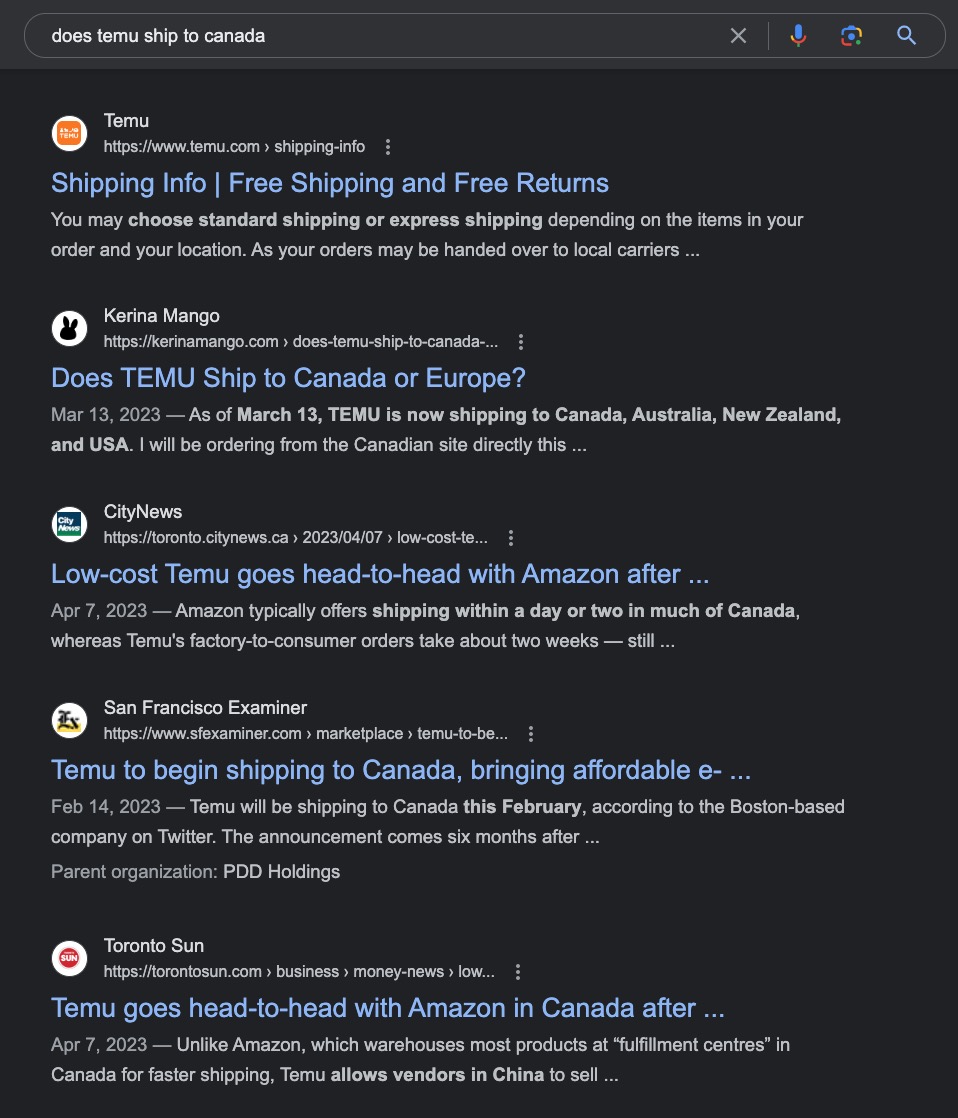 Blogging for eCommerce
Blogging is something eCommerce retail owners usually attempt, but quickly abandon.  The reason we went through this extensive effort was simply a reaction to sales numbers.  When SEO ranking drops, our sales drop drastically!
One thing we noticed from a competitor was that they placed blog titles on the homepage and thus it had high keyword density.  Furthermore, the overall website had many more keywords written in a real, human way.  It was clear that blogging for eCommerce is still vital to success.
If you enjoyed the insights in this post, you can also try this tutorial but for eCommerce Products.
So thanks for reading this, and good luck!
Latest posts by Peter Peng
(see all)